Large Marie-Antoinette Gift Box with a selection of 10 products
You will find in your large "Marie-Antoinette" gift box: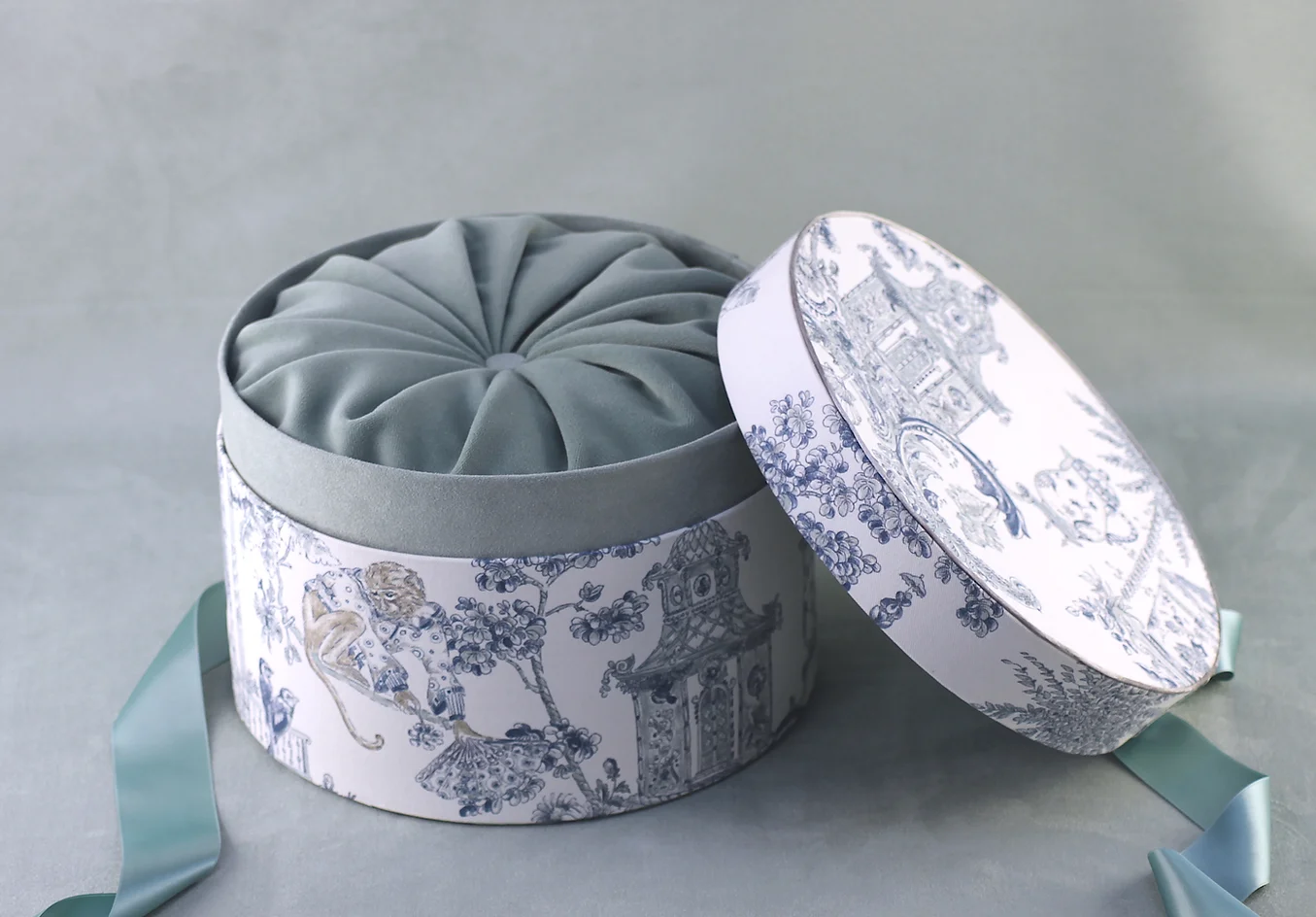 Lilly designs and fabricates each of her hat boxes and transport dust bags by hand. 
From the search for noble materials in the greatest French houses, to the refinement of its transport bag, France by Lilly embodies the excellence of French tailor-made creations.
Each exquisitely crafted treasure box perfectly combines the know-how of classic Parisian paper art with timeless decoration, offering you a luxurious object that will enhance your home's interior.
The "Marie-Antoinette" model is beautifully upholstered on the inside with a delicate water-green suede from the house of Pierre Frey, and adorned on the outside with a coordinated Toile de Jouy Chinoiserie fabric. Together, these elements represent the best of French elegance.
Each appearance of Marie-Antoinette was an exciting event that allowed the court to admire her lavish dresses, and of course, the elaborate matching hats. Since the 18th century, hats remain the finishing touch to an elegant outfit while expressing the unique personality of the remarkable woman who wears it. A worthy heir to this tradition, the Parisian house Odèle has reinvented the art of the hat, elegantly combining classic chic with modern influences. 
Odele's founder and creative force, Johanna, trained by the prestigious Chanel chapeau workshops, imagines, revisits, and fabricates each of her hats, berets, bibis, headbands and accessories entirely by hand.
For France by Lilly, Johanna has created a delicious powder pink fascinator "Bibi" which perfectly embodies the romantic Parisian spirit of its designer.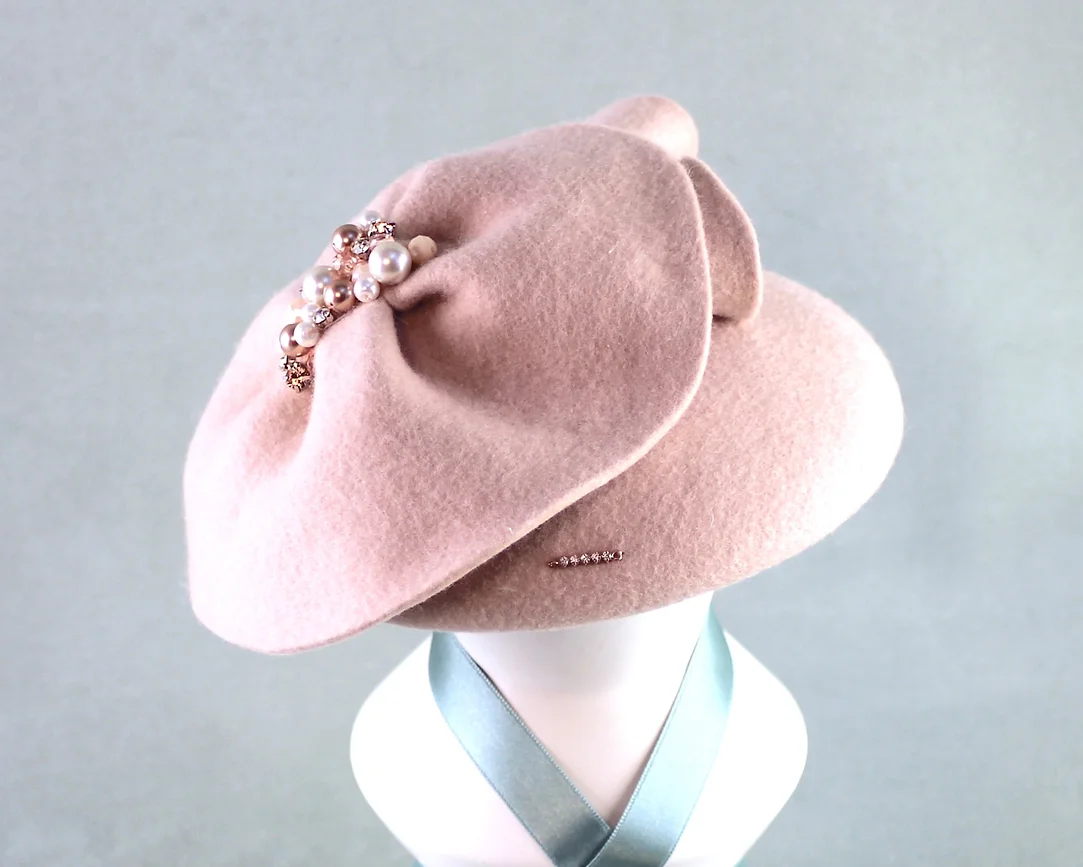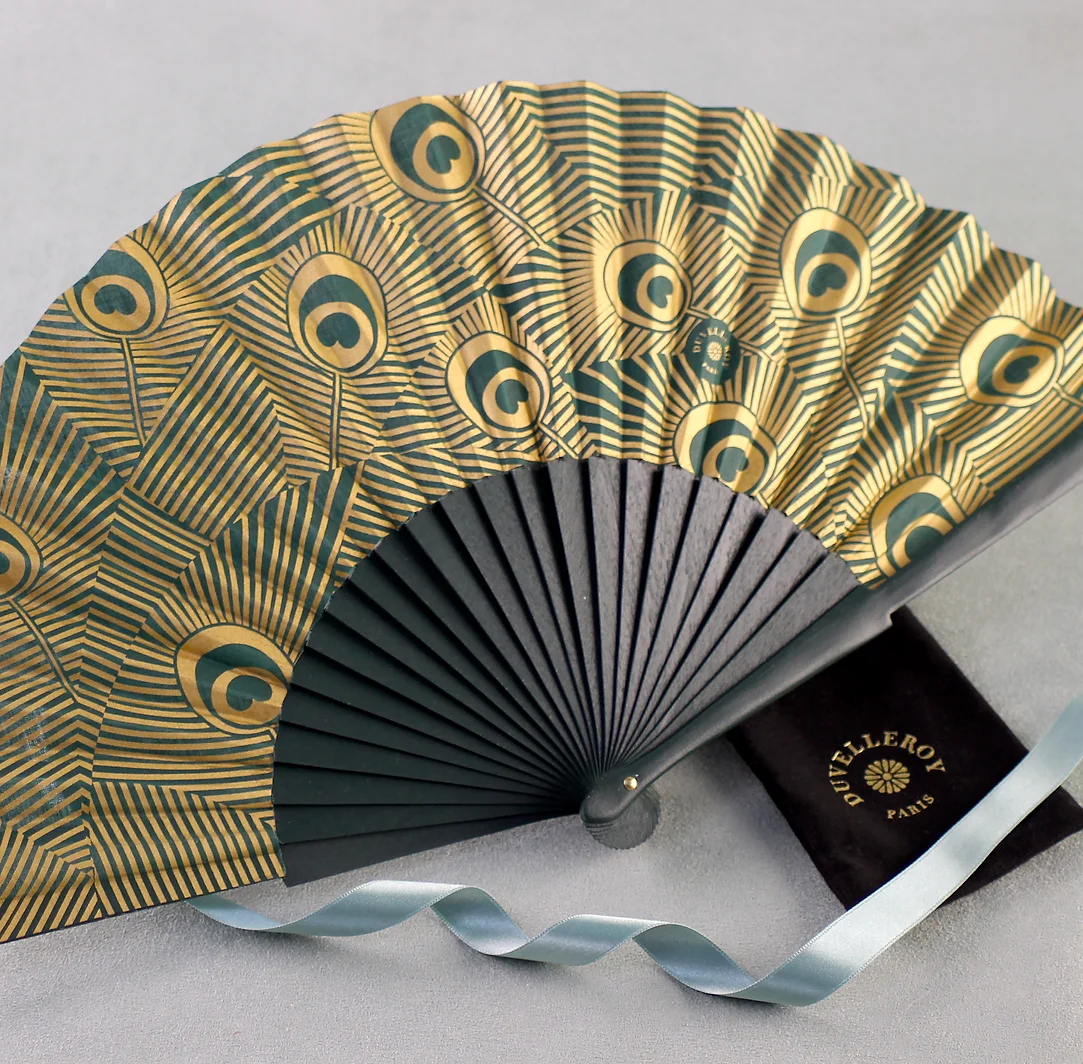 The essential accessory for elegant ladies of the 18th century, – and for today.
Through its creativity and excellence, Maison Duvelleroy has won over prestigious European courts, and since its creation in 1827 has become the royal benchmark for unique fans. 
In particular, the Maison is known for creating two memorable masterpieces amongst many: the Eugénie de Montijo fan for her marriage to Napoleon III, as well as the famous white ostrich feather fan worn by the Queen of Egypt during her marriage in 1938.
Lilly naturally fell in love with the exquisite creations of the reknown Parisian house, and offers you the Duvelleroy fan in printed cotton on a hand-carved Sycamore wood frame. Lilly also shares with you all the secrets of fans by including an extract of the language of the fan dating from the 18th century!
Tasted for the first time in Paris in 1672, coffee has always been in the lavish salons of the capital. Accordingly, coffee has been a privileged witness throughout the ages to secrets great and small that have contributed to the rich history of France. 
The famous Orfèvre Saglier et Frères, in the 19th century, was the hallmark of Parisian silver excellence. The refinement of the traditional crossed ribbon and Acanthus leaf designs, along with the delicate curves of these Louis XVI style Moka spoons, will add quiet sparkle and joy to your coffee service.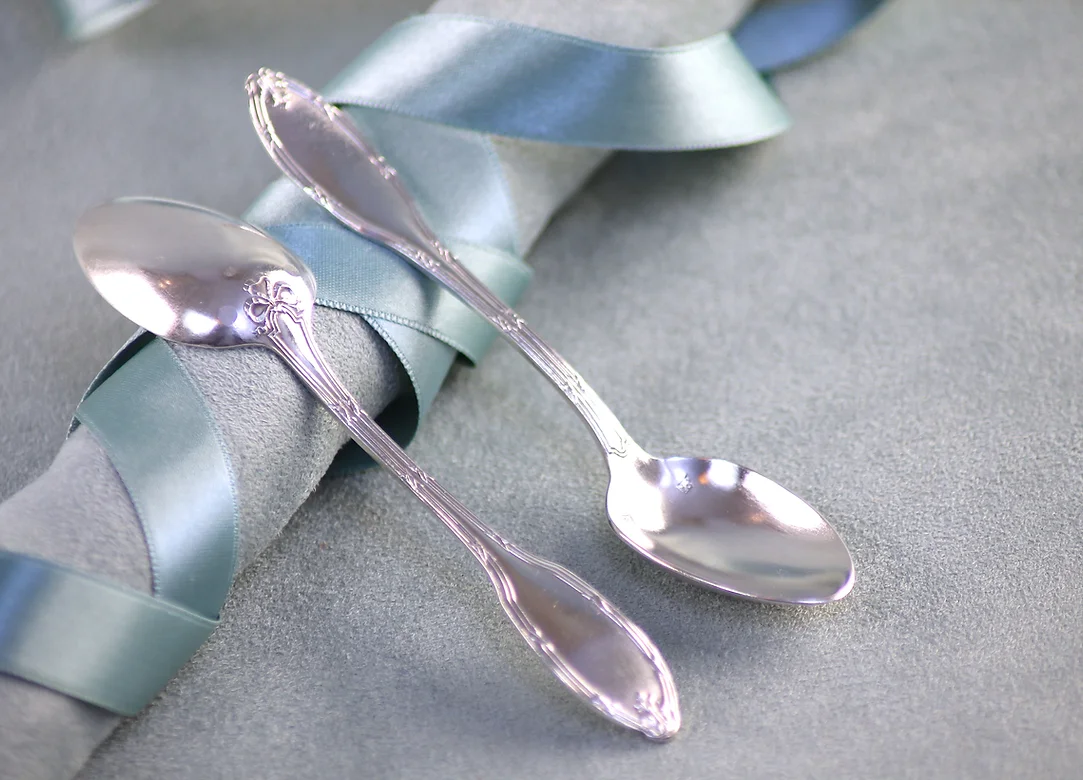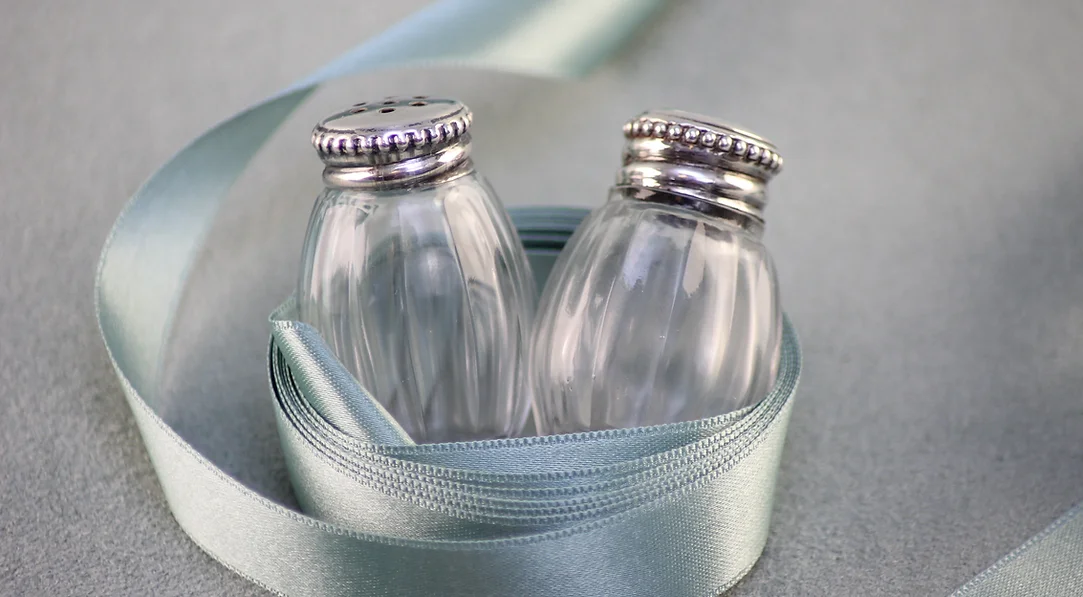 SALT CELLAR & PEPPER POT CHRISTOFLE
For your next sublime table setting, Lilly offers you the same famous salt and pepper shakers in crystal and solid silver haloed with delicate pearls, attributed to the court of King Louis XVI and Marie-Antoinette. Produced in the great years of Maison Christofle, and sourced from the best Parisian antique dealers, these precious objects will bring delicacy to your table decoration and will not fail to attract the attention of your guests.
CHOCOLATE DEBAUVE & GALLET
In 1770, for her marriage to Louis XVI, Marie-Antoinette, a passionate chocolate lover, arrived at the Court of Versailles with her own chocolatier: "Chocolatier de la Reine". 
For your exclusive pleasure, Lilly invites you to taste the delicious "pistoles de la Reine" that were specially created by Debauve & Gallais in Paris for Marie-Antoinette. This rare treat is the original recipe that she found irrestible.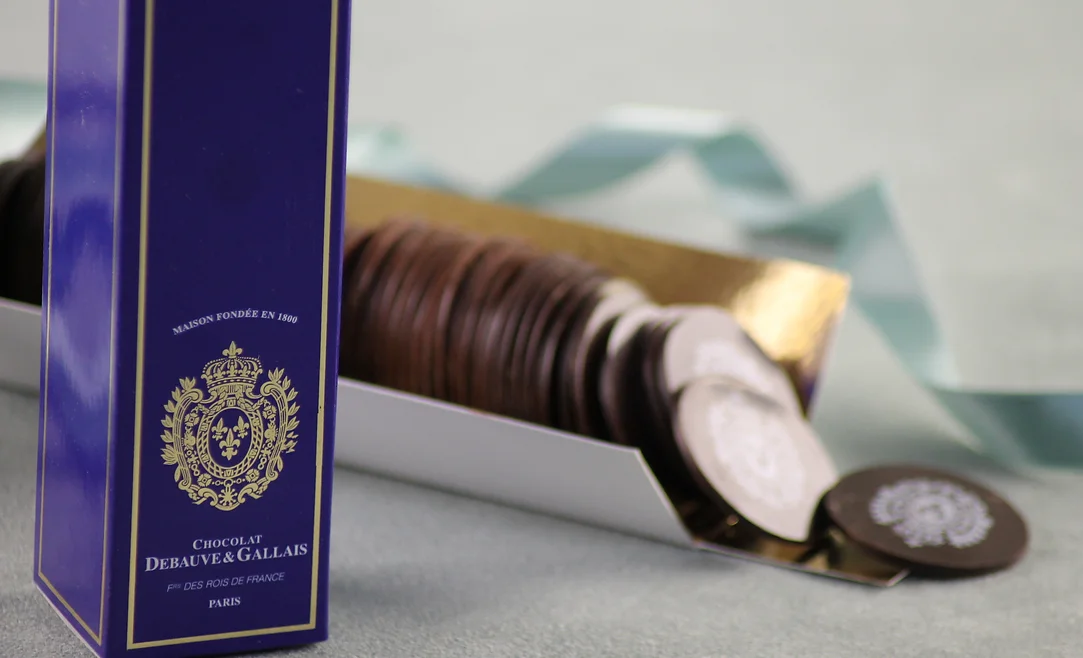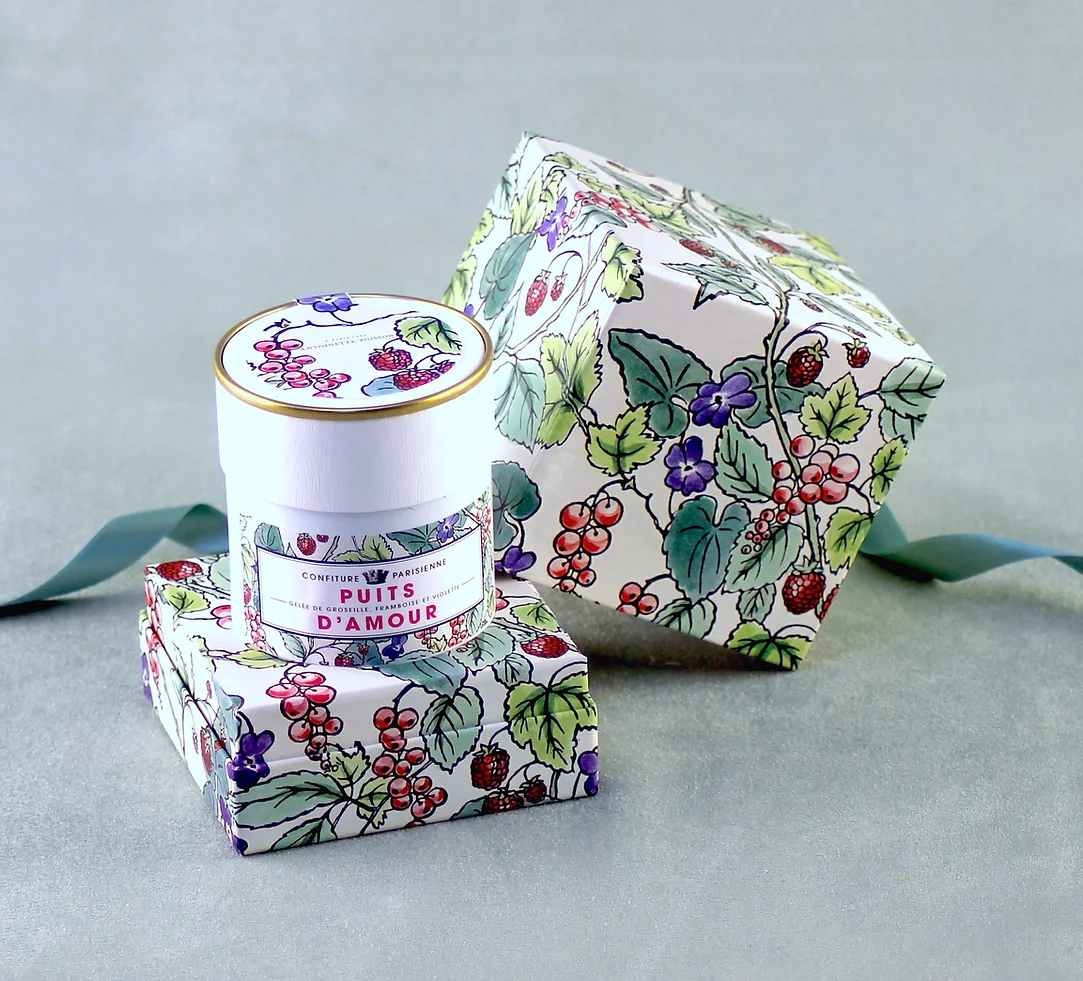 As a token of his love, King Louis XV offered his favorite coutesan, the Marquise de Pompadour, the "Well of Love". This decadent dessert, imagined by the best pastry chefs in Paris, revealed a jam with a unique flavor in its heart.
Combining luscious redcurrant, ripened raspberry and violet flowers , this heady preparation quickly established itself as a royal specialty, and hypnotized the court of Marie-Antoinette.
While the secret recipe had been lost during the revolution, the Confiture Parisienne workshops had the brilliant idea of ​​bringing the mesmerizing concoction back to life. To the delight of royal taste buds everywhere, Lilly has ensured that you can savour this marvelous treat as she adds this crowning touch to your box. She knows it will capture your heart as well!
Take a stroll through the scented gardens of Versailles, and breathe in the authentic aromas that only NINA's Paris has managed to capture in its exceptional teas. 
The Marie Antoinette Tea, selected by Lilly, is made exclusively with fruits and flowers from the King's Garden of Versailles. Tea Nina's, Since 1672.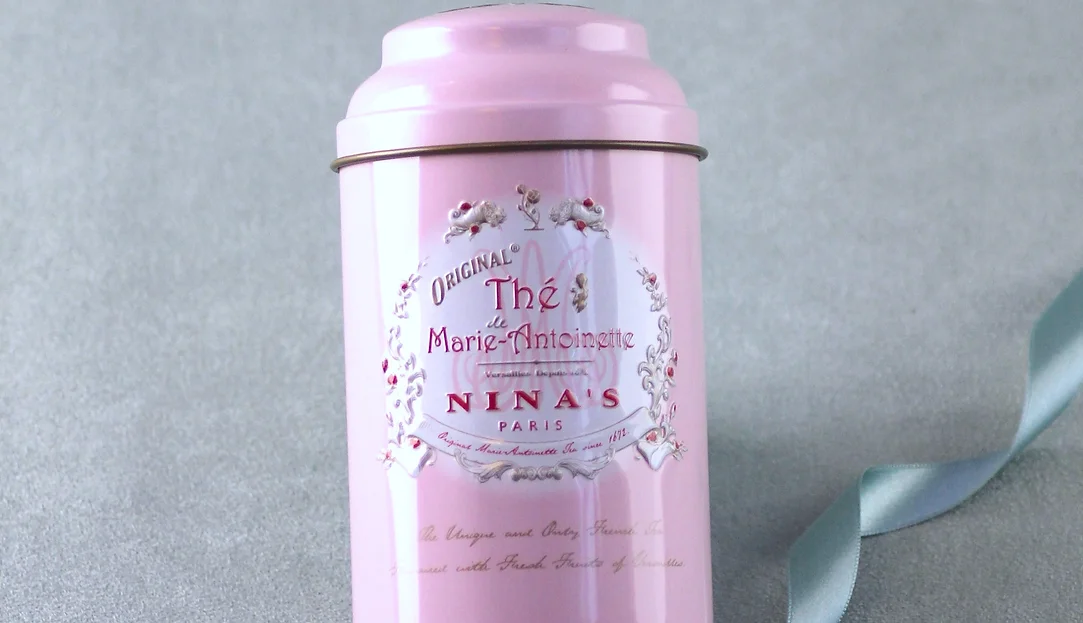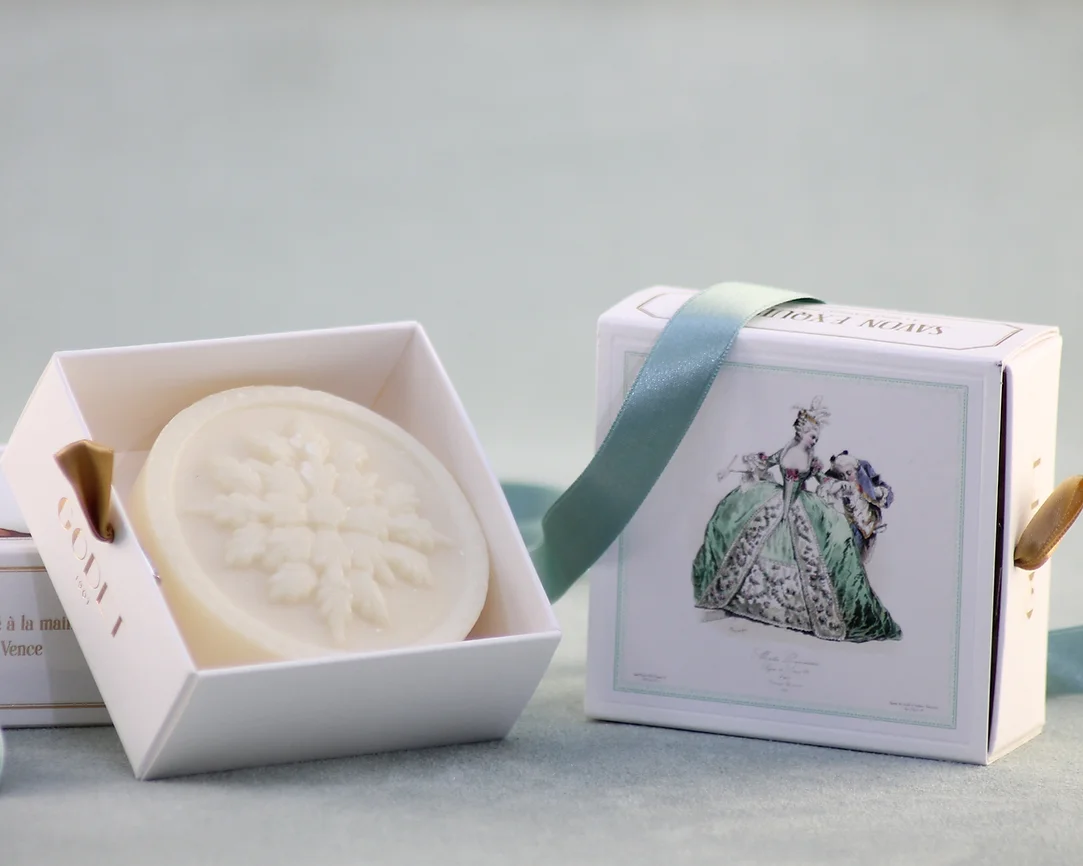 Marie-Antoinette, the Perfumed Queen, brought the delicate, sweet and fruity scents from the countryside into fashion. Namely, before Marie-Antoinette, the Royal Court was perfumed with more masculine and musky animal scents.
200 years after Marie-Antoinette, we continue to love the sweet, powdery scents that she adored. Lilly has selected an exceptional artisanal soap from "Maison Godet" for you to discover. For your pleasure, it is perfumed with rare and natural oils and presented in its own beautiful box. The legendary Godet family has been manufacturing its French haute parfumerie products in Grasse for 119 years now
Lilly fell in love with these magnificent Chromolithography plates, preciously captioned by handwriting with a pen. All the pages are taken from the work Histoire Naturelle Illustrée translated into French by J. Greenland of the University of France and published in Paris around 1870.
The board is carefully protected and rolled in its sheath before being installed in your case. Upon receipt, simply select the frame that suits you, and give your interior a French touch of freshness. As actual and amazing as works of the Queen's botanist, Pierre-Joseph Redouté, also nicknamed "the Raphael of flowers" …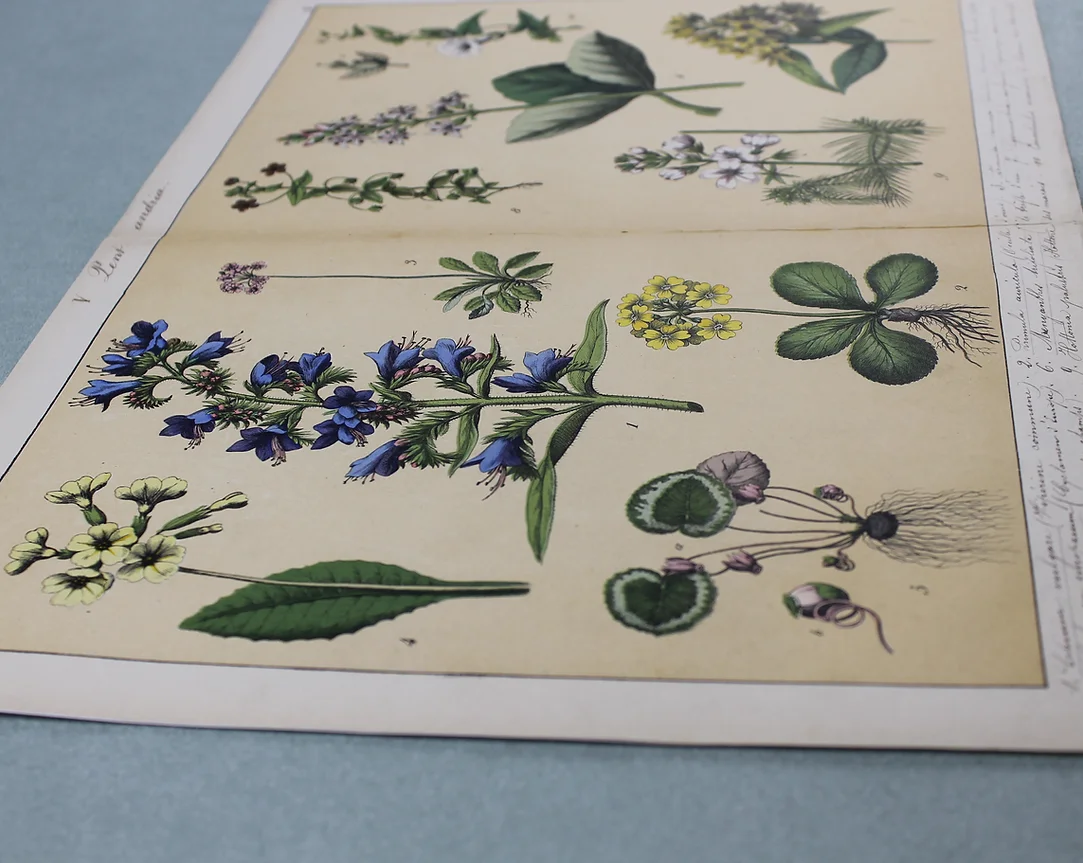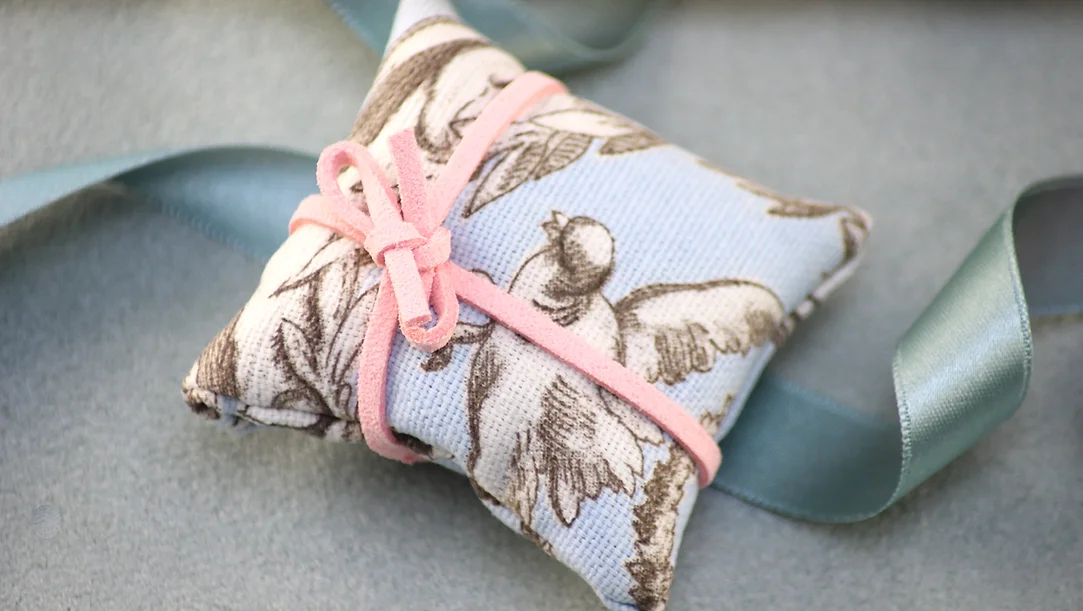 An essential keepsake to perfume your suitcase or your small linen drawer. This intimate and exclusive creation is crafted by Lilly combining fragrant lavender from her garden with classical Toile de Jouy fabric. Marie-Antoinette loved these fanciful, hand-printed fabrics and often wore colourful dresses made from them!